Let the machine do the work!
Planting bulbs with a machine is the perfect way to create colour over a large area. Mechanical planting offers a substantial saving by removing the labour cost for planting the bulbs. It also gives your public green space a quality boost which benefits the environment, the residents and insect life.
Verver Export has a catalogue full of special mixtures, called Kits, which are highly suitable for machine planting. The bulbs are planted under grass by experienced operators using  our own machines.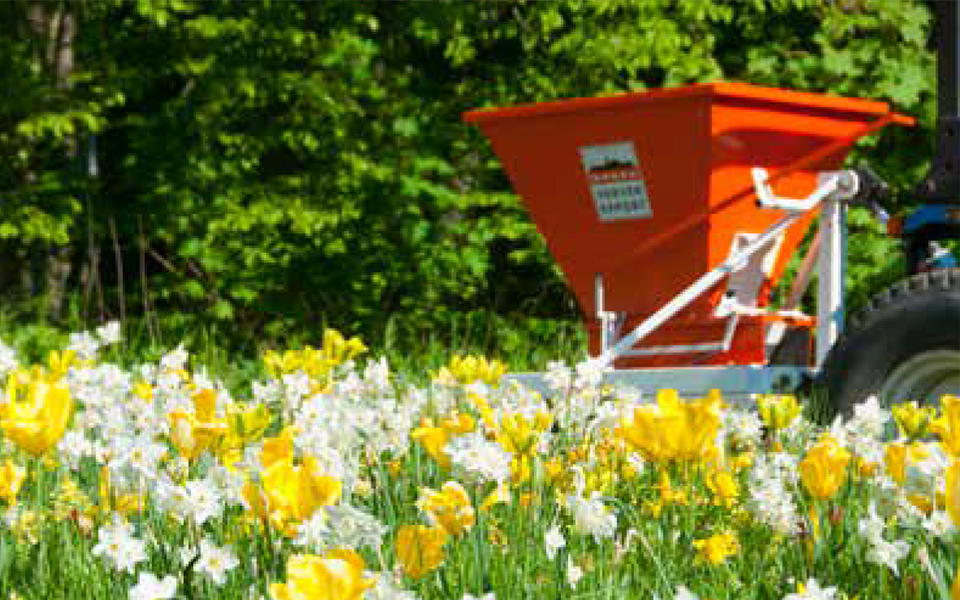 Our method
The planting machine plants the flower bulbs under grass. You can think of roadsides, roundabouts, traffic squares, lawns and embankments. The plant width is optional: 100 or 50 cm wide.
The planting location must be tested beforehand by taking a number of spot checks with the spade. If you do not find any obstacles up to a depth of 20 cm, it is possible to plant flower bulbs by machine. A healthy turf, well rooted, gives the best result immediately after planting. The machine puts the sod back and presses everything back on.
We plant in the autumn as well as in the spring with our specially developed machines. By combining flower bulbs with flower seeds, we increase biodiversity over a long season.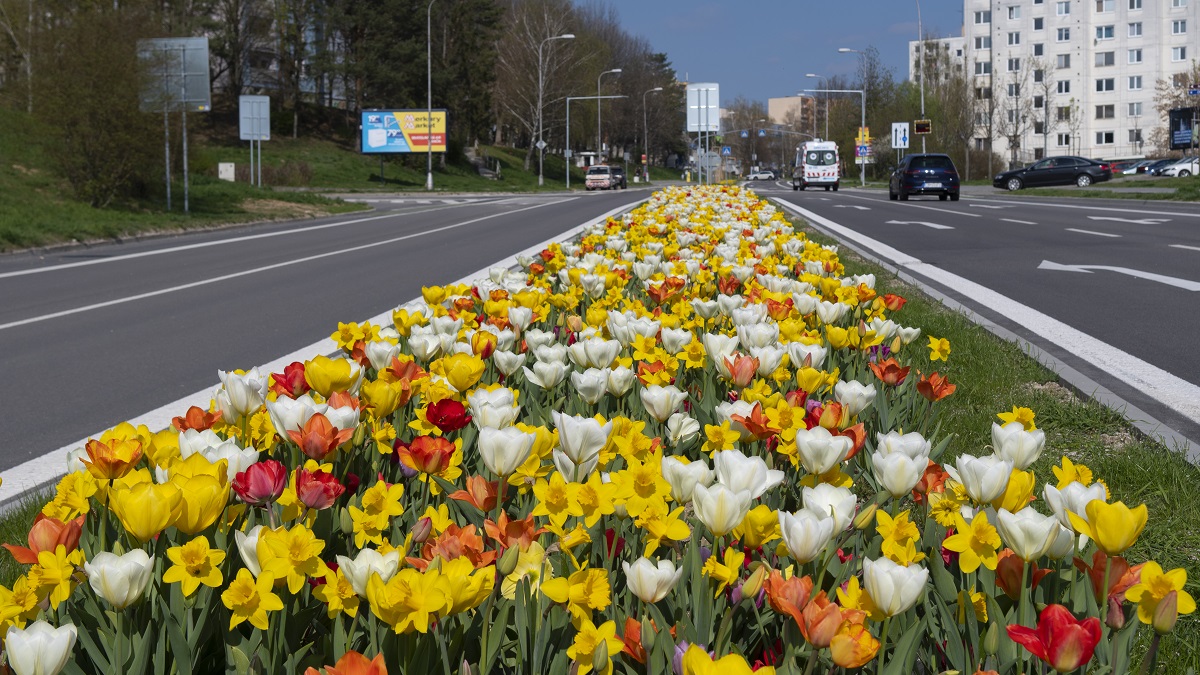 Mechanical planting: the benefits
Verges and parks can be in bloom in early spring. This is very important for the insects that emerge early, such as honeybees and bumblebees. The choice of the bulb mix determine the length of flowering and the further management of your public green spaces.
Planting bulbs mechanically in grass offers many benefits:
Labour-saving

We take over the laborious work for you. Verver Export's planting machines offer the solution: 40,000 bulbs planted in half a day, or 100,000 in a full day.*

(* obviously depending on the bulb size – you can triple those numbers for small bulbs!)

Long-term investment

All our bulb mixes for the planting machine have been carefully selected and tested. Flowering will repeat for several years. The cost per m2 is low, in view of the durability.

Low maintenance

Verges, parks and meadows with flowering bulbs are low maintenance. Once the bulbs have died back in late spring, you can simply start mowing again. In fact, a long-flowering mix may save you a number of mowings in early spring!

Biodiversity

Bulbs increase the biodiversity in the public space. With the right mix selection this planting can make a demonstrable contribution as a food source for early butterflies, bumblebees and honeybees. We guarantee you a real sea of flowers which benefit not only bees and butterflies, but also passers-by and leisure users. This can also be combined with our flower seeds.

Expertise

Our sales team will check your planting location for suitability, and will be happy to help you make the right choice from our ever-expanding range. Take advantage of our years of knowledge and experience to make the best choice for your public green spaces!
Advice
A number of conditions are important for the success of your machine planting. The right choice of mixture for your stand. Our local sales representative will be happy to help you with this choice.
But the moisture of the soil during / after planting, fertilization and mowing policy are also a number of important criteria for the success of the planting. To support successful flower bulb planting, we have drawn up a number of technical tools for you to share with involved employees / contractors.